News
Posted by Andrew Kephart on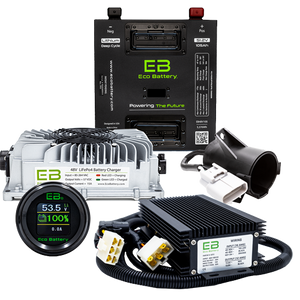 TheGolfCartFarm.com provides lithium battery upgrade bundles for your golf cart. Free Nationwide shipping and professional install available in Arizona. Brand new Eco Battery Lithium Packs for your golf cart.  Benefits of converting your golf cart to lithium: - Zero maintenance  - Charges 3X Faster - Weight reduction - Longer run times - Long term storage mode - 8 year warranty No more filling your batteries with water and dealing with acid leaks on your floor.  Compared to lead acid batteries you will save about 300 pounds (this will increase your golf carts performance and reduce wear and tear).  All of our lithium packs come with an 8 year...
Posted by Andrew Kephart on
Here are the top 10 reasons why you should shop at TheGolfCartFarm.com: Wide selection: TheGolfCartFarm.com offers a wide selection of golf carts, accessories, and parts, ensuring that you can find exactly what you need. Quality products: TheGolfCartFarm.com sells only high-quality products from reputable brands, so you can be confident in your purchase. Competitive prices: TheGolfCartFarm.com offers competitive prices on all of their products, so you can get the best value for your money. Expert advice: TheGolfCartFarm.com has a team of knowledgeable experts who can provide you with advice and guidance on all things golf carts. Free shipping: TheGolfCartFarm.com offers free...